Vorwerk

Country of origin
United States
State/Provence of origin
Minnesota
Other names
Golden Lakenvelder

Breed Info
Recognized by APA
No, but bantam variety is.

Traits
Male Weight
5.5 - 7.5 lbs
Female Weight
4.5 - 5.5 lbs
Feather Coloring
buff, black tail, primary, and hackle feathers. dark brown saddle feathers on rooster.
Eye Color
orange
Legs
slate
Egg Color
White
Comb Type
Single comb
Wattles
bright red
Earlobes
white
Broodiness
Low

Chicken (

Gallus gallus domesticus

)

The vorwerk, more commonly known as the golden lakenvelder, is a variation of the more common white lakenvelder. The vorwerk is very rare in the U.S. Apart from their golden coloring, they are similar to the silver lakenvelder in appearance and behavior.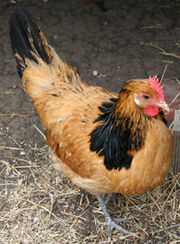 Ad blocker interference detected!
Wikia is a free-to-use site that makes money from advertising. We have a modified experience for viewers using ad blockers

Wikia is not accessible if you've made further modifications. Remove the custom ad blocker rule(s) and the page will load as expected.