Easter Egger


A typical Easter egger rooster.
Country of origin
USA
Nicknames
Easter Egger

Breed Info
Recognized by APA
No
Chicken (

Gallus gallus domesticus

)
Easter Eggers are a very popular variety of chicken, named for their colorful eggs. Easter Eggers typically have a beard and muffs, but their appearances can vary greatly, as they are not a true breed, and the only thing they have to have to be considered an Easter Egger is the "blue-egg" gene. Easter Eggers have pea combs, and you can usually tell the pullets and cockerels apart by their comb, cockerels have three raised rows, and pullets one!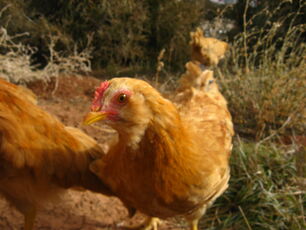 Ad blocker interference detected!
Wikia is a free-to-use site that makes money from advertising. We have a modified experience for viewers using ad blockers

Wikia is not accessible if you've made further modifications. Remove the custom ad blocker rule(s) and the page will load as expected.