Appenzeller


A silver spangled Appenzeller Spitzhauben hen
Conservation status
Very rare
Country of origin
Switzerland

Breed Info
Varieties
Spitzhauben and Barthuhner
Variations
Black, golden spangled and silver spangled
Recognized by APA
No
Has Bantam Counterpart
yes

Traits
Male Weight
4.5 lbs
Female Weight
3.5 lbs
Bantam Male Weight
24 oz
Bantam Female Weight
20 oz
Eye Color
dark brown
Legs
blue-gray
Egg Color
white
Egg size
medium
Comb Type
V-comb (Spitzhauben), rose comb (Barthuhner).
Egg Productivity
good
Cold Tolerance
good
Broodiness
occasionally broody

Chicken (

Gallus gallus domesticus

)
The Appenzeller is a breed that originates from the Appenzell region of Switzerland. In North America, it is very rare and is recognized officially by neither the American Poultry Association or other breed registries. Appenzellers like perching in trees, even in snowstorms.
Appearance
Edit
There are two varieties of Appenzeller: the Spitzhauben and the Barthuhner. The Spitzhauben, meaning 'pointed hood', has a very prominent crest of feathers on it's head and a V-comb. The Barthuhner has a rose comb, no crest, and a beard and muffs.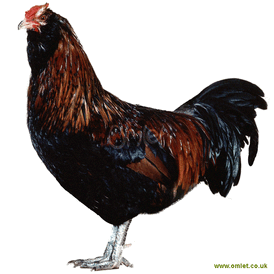 Ad blocker interference detected!
Wikia is a free-to-use site that makes money from advertising. We have a modified experience for viewers using ad blockers

Wikia is not accessible if you've made further modifications. Remove the custom ad blocker rule(s) and the page will load as expected.